Everything you need to know about me,my skills and my work.
Resume
About me

I'm a game designer with a passion for creating engaging experiences. I mainly focus on developing VR content for the HTC Vive and Google Cardboard but I also have experience developing for PC and mobile. I enjoy working with teams of people to quickly and effectively come up with the best experience possible. I am always keen to learn things, work on exciting projects and expand my tool set. ​ ​

---

Technical Skills

Unity 3d

3 Years experience

Skilled at rapid prototyping
Enjoys keeping a tidy project and scene
Experience using an established file structure
Experience creating VR, AR, Mobile and PC content

C# programming

3 Years experience

Experience using it to program VR and PC content
Constantly sharpening my skills
Skilled at gameplay programming in VR, Mobile, PC games

3D

3 Years experience

Modeling
Rigging
Blender (3 years)
Maya (1 year)

XR Development

3 Years experience

HTC Vive
Oculus Rift
Google Cardboard
Google Daydream
​Gear VR
Google AR Core
Apple AR Kit
Microsoft Hololens
Vuforia


---

Other Skills

Photoshop

4 years experience

Used to create textures
Understanding of the pipeline from Photoshop to Unity

Premier pro

3 Years experience

Basic knowledge of how to create videos
Made trailers for personal projects as a part of my studies at AIE

---

Work EXPERIENCE

That VR JOint

August 2016 - September 2016

I worked at that VR Joint when it initially started up, I helped in setting up the space, launching it and worked a few shifts after that. Unfortunately I haven't been able to get any more shifts at That VR Joint due to business being slow.

Phoria

September 2016 - November 2016

​I interned for a few months at Phoria, assisting with whatever design work is required on the given day. This has so far included, assisting in porting content to mobile systems (Unreleased), researching and developing prototypes.

Opaque Media Group
​Ground Control

November 2016 - Present

As a part of the ground crew for Opaque I help out at events with running demos, setting up and packing up booths and occasionally come to their offices to do testing for them. ​

University Of Melbourne

March 2017 - April 2017

I developed a VR prototype for use in the youth mental health space for Melbourne Uni. I worked on the project for approximately a month along side Dr. Greg Wadley and Nathan Beattie. The project was for HTC Vive and was developed in Unity3d. More information can be found here: https://blogs.unimelb.edu.au/vrt4ymh/.

---

Other Expereince

​Best interactive EXPERIENCE award

August 2016

Participated in a 2 day hackathon at General Assembly
Created a prototype demonstrating ways to prepare for a cyclone
Worked with a team of scientists, storytellers and developers
Created the prototype for the HTC Vive using Unity.

2nd place at MelbourneVR Global Hackathon

June 2017

Participated in a 3 day hackathon at The Dream Factory in Footscray
Created a demo of a VR food safety game where players must keep items clean and try to build a burger.
Worked with an artist from Art of Play as well as some researchers and producers
The game was programmed almost entirely by me and was made in Unity with C# for the HTC Vive.

Speaker at VR Meetup

October 2016

Gave a talk at a VR Meetup about developing for Google Cardboard
Spoke about the pros and cons of Hackathons.

Liminal VR Partner

June 2017

Myself and my game design partner Jackson Hall are members of the Liminal VR partnership program, together we are developing a calming experience for their Google Daydream platform.

---

Education

Certificate 3 in Digital Media

The Gordon Institute of Tafe (Geelong)

July 2015 - December 2015

I completed a Certificate 3 at The Gordon. We created 3D art assets for games using programs such as Photoshop and Blender.

Advanced Diploma of Professional Games Design and Production

Academy of Interactive Entertainment (Melbourne)

January 2016 - December 2017

From January 2016 to December 2017 I studied game design and production at The Academy of Interactive Entertainment in Melbourne, Australia. Throughout the course I learned about, team leadership, producing large scale projects and creating high quality design documents.

---
Powered by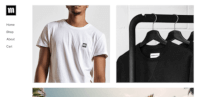 Create your own unique website with customizable templates.